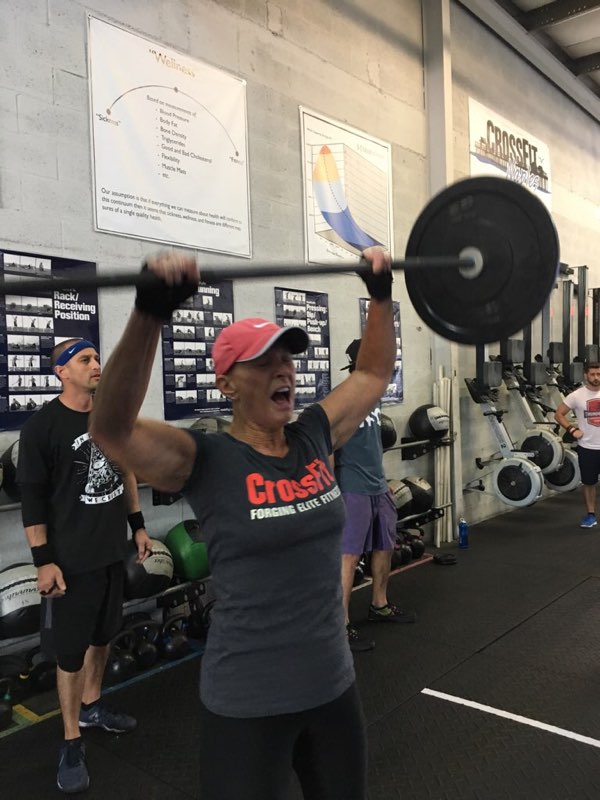 This is our athlete Marilyn participating in her FIRST CROSSFIT OPEN at age 67!
We had a great 2018 CrossFit open at our new home.
The energy was awesome and our athletes really broke through so many mental and physical barriers!
For those of you who do not know, the CrossFit Open is a world wide fitness competition that is comprised of five workouts, one per week, which CrossFit creates and publishes. The workouts have an "Rx" (i.e., as prescribed) division, which is the most difficult, and then "Scaled" divisions that are athletes of any ability can do. People pay $20 to be able to submit their scores on each workout to see how they compare to the other people competing in the Open all over the world. Each workout is judged for compliance to the standards or you can video the workout and submit it to CrossFit for judging. The workouts can be done at any CrossFit affiliate or anywhere as long as you have the requisite equipment. Those who perform in the top of their region in the Open then go on to compete at Regionals (of which there are currently eight regions) and then the top 20 men and women from Regionals go on to compete at the actual CrossFit games which determine the fittest man and women on earth!
There is a constant debate regarding whether the CrossFit Games and CrossFit's competitive reputation do more damage than good to our CrossFit affiliate businesses. After coaching a few great athletes and many more less than great athletes I have yet to coach anyone who has even made it even to the regional level. But this is not the point.
People who do not experience the "Open" will never understand its power! They think it's just a bunch of competitive muscle bound workout freaks trying to out do each other! However, nothing could be farther from the truth! It is about breaking through mental barriers to make our lives outside the gym much more fulfilling! By pushing our selves past limits physically we in turn expand your mental limits and make things that once seemed difficult in our lives outside the gym, seem trivial. How much is that worth? Most of us are seldom truly pushed to our mental limits in the course of our regular commuting, sitting at a desk / computer / TV or our electronic devices all day. Pushing past mental limits is one way we can grow and have an overall better life!
Every year in the "Open" I witness regular people doing exceptional things and hence making their lives outside the gym more fulfilling. It makes zero difference if you are competing in the Open and can't even come close to doing the "Prescribed" workout the top athletes or others in your gym are doing. The only thing that matters is you pushed past YOUR limits. Whatever those are! Since each Open workout is meant to challenge us and is also judged, it humbles even the best of us and points out all of our physical and mental weaknesses!
People then get addicted to wanting to do even better in next year's Open, which leads them to leading their lives "cleaner" (i.e., better nutrition, workouts and rest) during the entire year to facilitate this! How much is THAT worth?
For this year's final CrossFit Open workout (18.5) I had to coach and judge our athletes all day and did not know when I would get my workout in. I wanted to get it over with so I could focus on our athletes. There was a lull in the late morning when we had no one in class and my oldest daughter Regan (who works in the fitness business with me) was at the gym and she wanted do it to so we did it together. We judged each other. It was so awesome to do something that I love so much with one of my daughters that made us BOTH better outside the gym! How much is that worth? Priceless!
THIS is what makes CrossFit and the CrossFit Open so awesome! What other fitness methodology lets regular everyday people participate and break through their mental barriers to make their lives more fulfilling every year? None that I know of!
In this video I talk about our Open experience. Please check it out! https://youtu.be/nDeK4SDSWa8